THANK YOU!  THANK YOU! 

While there are still donations coming in, this year's Silent Auction has raised over $6000 in support of the missions of the UMW.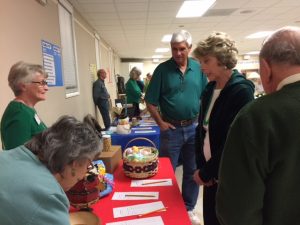 United Methodist Women's Annual
Silent Auction for Missions
Saturday, March 17
St. Patrick's Day
Dinner at 5:45; Auction, 6:45
Come and enjoy an evening of many delights, including dining, shopping, socializing and fun. You will find a wide array of treasures at the end of the rainbow, including personal and household items, baked goods, plants, and gift cards from many SML businesses.
In order to make the Auction a success, your help is requested.  We need donations of new or very gently used items, such as jewelry, tools, collectibles, gift baskets, pottery—items you would like to purchase yourself. Creative people, such as woodworkers, quilters, chefs, crafters, gardeners, artists, seamstresses and bakers are invited to donate their special creations or services.
Donations will be accepted beginning February 18. Please bring items you would like to donate to the Office Workroom, being sure to fill out and attach a Donation Form to each item.
Contact Linda Beard 721-4122 (lbxlb@msn.com) if you would like to help before or during the Auction by sorting merchandise, setting up, or working tables.
Remember 100% of all proceeds will go to missions supported by the UMW!