Disciple is an in-depth Bible study that is based on the following underlying principles: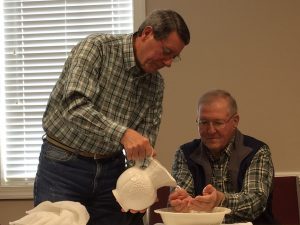 presents the Bible as the primary text;
calls for daily preparation on the part of students;
the study leader acts as a facilitator rather than as a lecturer;
includes a weekly discussion in a small-group setting that builds community;
includes a video component for making available the insights of biblical scholars to see the Scriptures in context; and has as one of its goals the enhancement of Christian discipleship
At Bethlehem Disciple courses are offered over a two year period, each session having eight lessons.  Disciple I is a 34 week course which gives an overview of both the Old and New Testaments.  Continuing studies of 32 weeks in length (Disciple II-IV) offer a more in-depth study of selected books of the Bible
The sessions of Disciple I will be held on Wednesday mornings, Disciple II will be offered on Wednesday afternoons and Disciple III on Thursday mornings.  Also, a continuation of the Disciple series called "Jesus in the Gospels" will be held Friday mornings.
**It is required that participants complete Disciple I before going on to the subsequent courses.