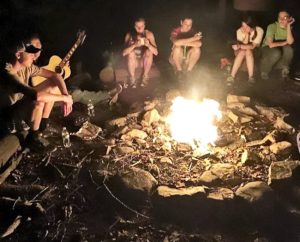 The Youth Ministry focuses on meeting the needs of our youth in grades six through twelve. Our Creed: To bring youth to Christ through the Word; strengthen and nurture each other with study, fellowship and fun; and to be the next stepping stone for the future of Christ's church.
Youth Group
Ordinarily each Sunday from noon – 2 p.m. the youth of Bethlehem (grades 6 – 12) share a meal and meet for a time of fun and fellowship together. During this time the youth group often plans various events, including retreats and service projects.
The youth attend regular retreats where we focus on time together and growing closer to God and one another through serving others and prayer.
Visit Bethlehem's United Youth on facebook.

---
Sunday Mornings
A Sunday school class for 6 – 12 grade is offered each week at 9:45 a.m. During this time youth learn about themselves and grow in their faith as they explore God's word.
---
Wonderful Wednesdays
During the school year the youth meet as part of the Wonderful Wednesday ministry. We gather at 6 p.m. to share a meal and fellowship, followed by small group discussion from 6:30 – 8 p.m. Activities include games, watching video clips and discussion of various topics ranging from school and peer pressure to Biblical stories and how they relate to modern life.
We welcome all young people to join us as we form lasting relationships with one another and God. Transportation is available as needed from home and/or school.
---
Missions
Throughout the year the youth group works to serve others in our community and world through service projects and missions trips.  We serve alongside many local agencies including Lake Christian Ministries, Henry Fork Service Center and SML Good Neighbors.  The youth also participate in an intergenerational mission trip during spring break and a youth mission trip during the summer. Visit us on Facebook
Beyond High School
The Higher Education Work Area involves staying connected and supporting our college students. We accomplish this goal through the ministries described below:
Monthly send a card, and a special package for Halloween, Christmas and Easter
Pair college freshmen with recently graduated or collegiate mentors
Contact collegiate Wesley Foundations for campus support
Post student contact information on the bulletin board outside the church office
The college students are on the weekly prayer list
Recognize college graduates during an 11:00 worship service in May
---
Safe Sanctuaries
The Safe Sanctuaries program helps us to train and certify persons as safe workers with children and youth.
Safe Sanctuaries policies include such things as screening and checking references for paid employees and volunteers: preventing abuse, recognizing signs of abuse and reporting incidents of abuse; making sure insurance coverage is adequate; and developing building usage policies.