Age: 4-5 years old
Day/Time: Monday, Wednesday and Friday, 9-1:00 p.m.
Class size: 14 children
The curriculum supports and is aligned with the Virginia's Foundation Blocks for Early Learning: Comprehensive Standards for Four- Year -Olds.
The curriculum incorporates the following monthly themes for a focused integration of skill development of oral/written language, science, math, art, music and dramatic play. These skills are taught at an age appropriate fundamental level throughout the year.
Incorporated throughout the program are:
• Fine and gross motor skill development
• Chapel and worship time as well as daily Bible story
• Field trips and Community exploration
• Guided/focused facilitated play
• Development of social skills
• Development of personal independence and responsibility
• Music appreciation and development
Fees: tuition is $150 per month. Registration fee is $75; after May 15th fee is $100. Reduced Registration and monthly tuition for second or more child(ren).
---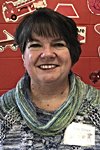 Pre-K Lead Teacher is Billie Jean Elmer.  Billie Jean grew up in Wytheville, VA and has a B.S. and M.Ed. in Education from VA Tech and Virginia State University, respectively.  Along with classroom teaching experience, she recently retired after 16 years as the 4-H Youth Development Agent in Surry County.  Billie Jean has an extensive background in curriculum development and instruction, and has worked with children of all ages.  As Chairman of the Preschool Board of Directors for Wakefield United Methodist Church, she helped to develop their curriculum.
---
Pre K Assistant Teacher Brittany Malicoat is a graduate of Brookeville High School in Lynchburg and attended Central VA Community College. Early in her career, she earned her CNA license. She taught the Two Year Old class for 5 years at Rebecca's Rainbow in Lynchburg. She continues to work as time permits assisting clients as a Home Health Aid.